Senate fails to override veto of Keystone XL pipeline
Senate fails to override Obama's stinging veto of Keystone XL pipeline bill despite eight Democrats voting for it -- and the GOP insists the fight's not over.

---

Hillary Clinton ran emails from servers in her Chappaqua home
Hillary Clinton ran 'homebrew' computer system for official emails with servers in her Chappaqua home.

---

Bungling Pentagon briefer mistakenly disclosed 'secrets'
Bungling Pentagon briefer mistakenly disclosed 'military secrets' when he told the media that Iraq was planning to attack ISIS.

---

Crazy Carson: Straight
prisoners become gay
Potential Republican presidential candidate Ben Carson claims being gay is 'absolutely' a choice.

---

Veteran cop fatally shot in the head by 'drunk' gunman
The cop, a 28-year veteran who has not been named, suffered was shot in the back of the head during the ambush in Fulton County, Georgia.

---

United States is running
out of room to store oil
For seven weeks, the U.S. has been producing and importing about 1M more barrels daily than it is consuming

---

AL Supreme Court orders halt to same-sex marriage licenses
The Alabama Supreme Court handed down a special ruling Tuesday, ordering a stop to the issuance of same-sex marriage licenses by probate judges.

---

Obama says 'nothing new'
in Netanyahu speech
US President Barack Obama said there was "nothing new" in Benjamin Netanyahu's controversial speech to Congress on Tuesday, insisting the Israeli Prime Minister did not offer a better option than negotiations.

---

Netanyahu once again rants
about nuclear weapons
Netanyahu told Congress that a possible deal with Iran all but guarantee's they'll get nuclear weapons.

---

House passes Homeland Security
funding bill
The bill funds the DHS through the end of September without restrictions on immigration.

---

Body-camera maker has
financial ties to police
The relationships raise questions of whether chiefs are acting in the best interests of the taxpayers.

---

Petraeus to plead guilty
Decorated war veteran and former CIA director David Petraeus has entered into an agreement with federal prosecutors in which he would plead guilty to a misdemeanor charge for mishandling classified information.

---

U.S. spy Snowden in talks on returning home: lawyer
A Russian lawyer for Edward Snowden said on Tuesday the fugitive former U.S. spy agency contractor who leaked details of the government's mass surveillance programs was working with American and German lawyers to return home.

---

'Blurred Lines' made Thicke, Pharrell $16M in profit
A lawsuit brought by Marvin Gaye's estate over rights issues reveals rare financial details of the biggest song of 2013.

---

Keurig K-Cup inventor
feels bad that he made it
John Sylvan doesn't own the coffee-in-a-pod system he created, calling it "a cigarette for coffee."

---

Katy Perry selling shark suits
Fans can memorialize the singer's Super Bowl halftime show, but the price tag isn't going over well.

---

Has the City of the Monkey God been found after 500 years?
A team hunting for the legendary 'lost city' of Ciudad Blanca in Honduras has made a dramatic discovery of untouched ruins deep in the jungle that are thought to be thousands of years old, according to National Geographic.

---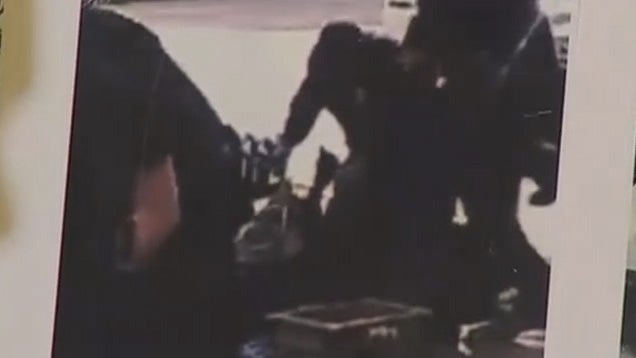 LAPD Chief: Evidence shows man grabbed gun before police shooting
Speaking at a press conference on Monday, Los Angeles Police Chief Charlie Beck defended the officers who shot a homeless man to death on the city's skid row yesterday, offering visual evidence he says supports their version of what he called "an extreme tragedy."

---

Bedrooms that turn into fields and inside-out houses
Thought the black and blue dress was an optical illusion? It's nothing compared to these mind-boggling pictures by a Swedish photographer, artist, and Photoshop genius.

---

Video shows moment children shout 'terrorist' at Sikh boy
The original video was removed from YouTube but it is thought to have been filmed on the way to a school in the state of Georgia.

---

Bill Clinton's portrait includes shadow of blue dress
The artist of the official White House portrait says he snuck in a reference to the Monica Lewinsky scandal.

---

IS threatens Twitter
founder, employees
A new post by the Islamic State encourages its members to kill co-founder Jack Dorsey and other employees.

---

Ferguson police disproportionately ticketed blacks
The findings come three months after a grand jury refused to indict officer Darren Wilson over the fatal shooting of 18-year-old Michael Brown.

---

President threatened to shoot down Israeli jets
President Obama is alleged to have thwarted an Israeli military attack against Iran's nuclear facilities in 2014 by threatening to shoot its aircraft.

---

Safety fears after potentially deadly bacteria is
accidentally released
The Burkholderia pseudomallei bacteria was released by the Tulane National Primate Research Center, Louisiana.

---

Clinton expected to officially announce sooner than later
Hillary Clinton and her close advisers are telling Democratic donors that she will enter the presidential race sooner than expected, likely in April.

---

How Bush's bet on FL economy may come back to haunt him
In October 2003, Jeb Bush unveiled one of the largest economic projects in Florida history: a $500 million plan to bring Scripps Research Institute to the state and build a biomedical hub he said would generate nearly 50,000 jobs in 15 years.

---
Huffington Post
BuzzFeed
Drudge Report
Google News
Yahoo! News
ABCNews
AlterNet
BBC
CBS News
CNN
Crooks & Liars
Fox News
Google News
Gawker
The Hill
Media Matters
MSNBC
Nation
New York Times
Newsweek
Politico
Radar
Reuters
Roll Call
Slate
Salon
Talk Left
ThinkProgress
Time
UPI
U.S. News
USA Today
Village Voice
Washington Post
Washington Times
Wonkette
Journalism
Breaking News
HuffCrime
FoxCrime
DNCrime
GoogleCrime
CNNCrime
NBCCrime
BLOGS
ActBlue
American Street
Atrios
AmericaBlog
Bartcop
BlondeSense
Blues Historian
BuzzFlash
The Confluence
Cook Report
Crooks&Liars
CQPolitics
Daily Bellwhether
Daily Howler
Daily Kos
Deep Fabulousity
DemUnderground
Dodge County DFL
Drudge Report
Drudge Retort
Ex-Conservative
Fark
Framed
Huffington Post
The Impolitic
Left Coaster
Liberal Values
Media Matters
Media Bloodhound
Minstrel Boy
Moderate Voice
MyDD
NewsAlert
News Corpse
North Decoder
Opinion Mill
Page One
Political Wire
Raw Story
Real Clear Politics
Roseanne World
Rosie
Scoobie Davis
StevenHartSite
Story So Far
Smoking Gun
Subterranean
Suburban Guerrilla
10,000 Monkeys
The Onion
Thieves in Temple
TalkLeft
Talking Points Memo
TaylorMarsh
ThinkProgress
Troubled Times
Wonkette